Embody Equity in Healthcare!
Get Your Guide to
Integrating Critically Conscious Curriculum

for Transformative Impact

This guide provides a roadmap for healthcare institutions to cultivate a culture of equity and inclusion by addressing the pressing need for comprehensive education on health disparities, social determinants of health, and implicit biases.

Each step offers clear instructions, actionable strategies, and valuable insights to help organizations navigate the process of integrating critically conscious curriculum into their existing educational frameworks.

Fill curricular gaps in medical education!
Integrate self-directed learning into longitudinal curriculum and professional development

Prepare leaders for integrating critical consciousness into leadership approach & decision-making

Links & resources throughout the guide to help you take next steps
"The racial literacy teachings have been so helpful for expanding understanding and increasing our comfort level with discussions of race and oppression. Furthermore, her one-on-one and small group consultations have been so hopeful at moving us through some major roadblocks on this journey...It feels like we are able to engage around race, racism and oppression in a way that no longer paralyzes us. We have language, greater understanding and, I believe, greater commitment to anti-racism."
Brian Johnson
Residency Program Director
"Overall, I cannot recommend Dr. Washington high enough. If you are looking for a consultant who is not only highly skilled and knowledgeable in the areas of diversity, inclusion and structural change, AND deeply committed to your success, Dr. Washington is the one for you."
Jasmine Powell
Departmental DEI Leader
Dr. Sharon GE Washington, Principal Educator of CCC, is renowned for engaging diverse audiences on the complex intersections of race, historical trauma, social inequality and justice, and the impact of these factors on health outcomes.

Through her consultation, Sharon has positively influenced, guided, and drove sustainable change to promote equity in multiple institutions. Dr. Washington has coached executive leadership teams to increase racial literacy, and cultivate institutional culture shifts to transparency and inclusion. Her comprehensive approach to institutional change, the Process of Engaging in Action to Create Equity (P.E.A.C.E.) has led to an integration of equity, inclusion, and critical race discourse in over 20 institutions in only three years
Sections
01
Defining Critical Consciousness in Healthcare
Deconstruct the meaning and underlying concepts of the term.
02
Steps for Integrating Critically Conscious Curriculum
Overview of key steps to prepare for deepening discourse and institutionalizing change.
03
Links to Resources & Additional Tools
Detailed insights and links to additional resources will support institutional growth.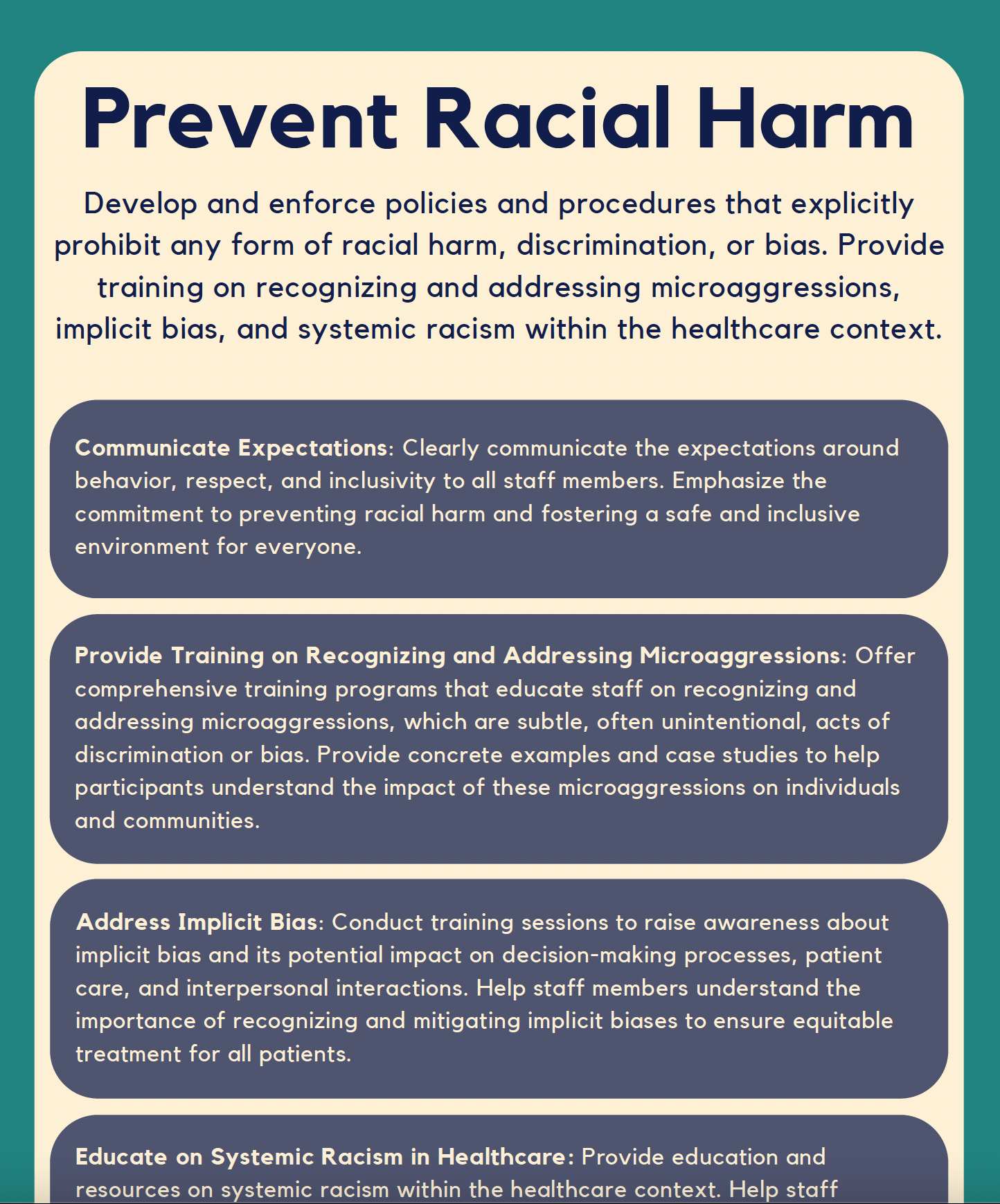 Institutionalize the change your diverse patients & teams need!
Don't miss out on this opportunity to integrate deeper discourse, increased authenticity, and sustainable change.

Download this free PDF to guide your process of integrating critical consciousness curriculum into healthcare settings and medical education.