Empty space, drag to resize
Organizational Assessment
As objective content experts, we will conduct interviews, review organizational records, and assess needs and resources. Themes are presented to leaders and team members, in order to generate priorities, recommendations, and impact mapping.
Empty space, drag to resize
Leadership Coaching
We provide a coaching experience that enhances individual and group authenticity, transparency & accountability. Fill educational and leadership development gaps with customized coaching to meet personal and organizatioinal needs.
Empty space, drag to resize
Organization-Wide Training & Dialogue
Engage leaders & team members in deep self-reflection and critical conversations that extend beyond checking a box, and facilitate meaningful personal and professional growth. Self-directed online courses, as well as live virtual offerings are available.
Discounts are available for bulk licenses.
Download a FREE cheatsheet for
Integrating Critical Consciousness Curriculum

into Healthcare Institutions

Learn about critical consciousness curriculum & how it can advance training and development in your institution!!
Why choose us?
Our approach to institutionalizing change is designed to address health inequities. Led by educators and clinicians, who are expert in the intersections of systemic inequity, race and racism, and healthcare.

Unlike many DEI firms led by tech and HR experts, SWC is led by educators and clinicians, who are expert in the intersections of systemic inequity, race and racism, and healthcare
Excellent Learning Solutions
We provide the most relevant and up-to-date content to cultivating equity, inclusion and justice in health care
Customizable Approaches
Our group provides a range of service options, from one-on-one coaching to online virtual courses, organizational assessments, listening sessions, and more
Client Focused
We work with our clients to understand their unique challenges and design a learning, growing, healing solution that meets their unique needs
Process for Engaging in Action to Create Equity™️
Dr. Washington's comprehensive approach to organizational transformation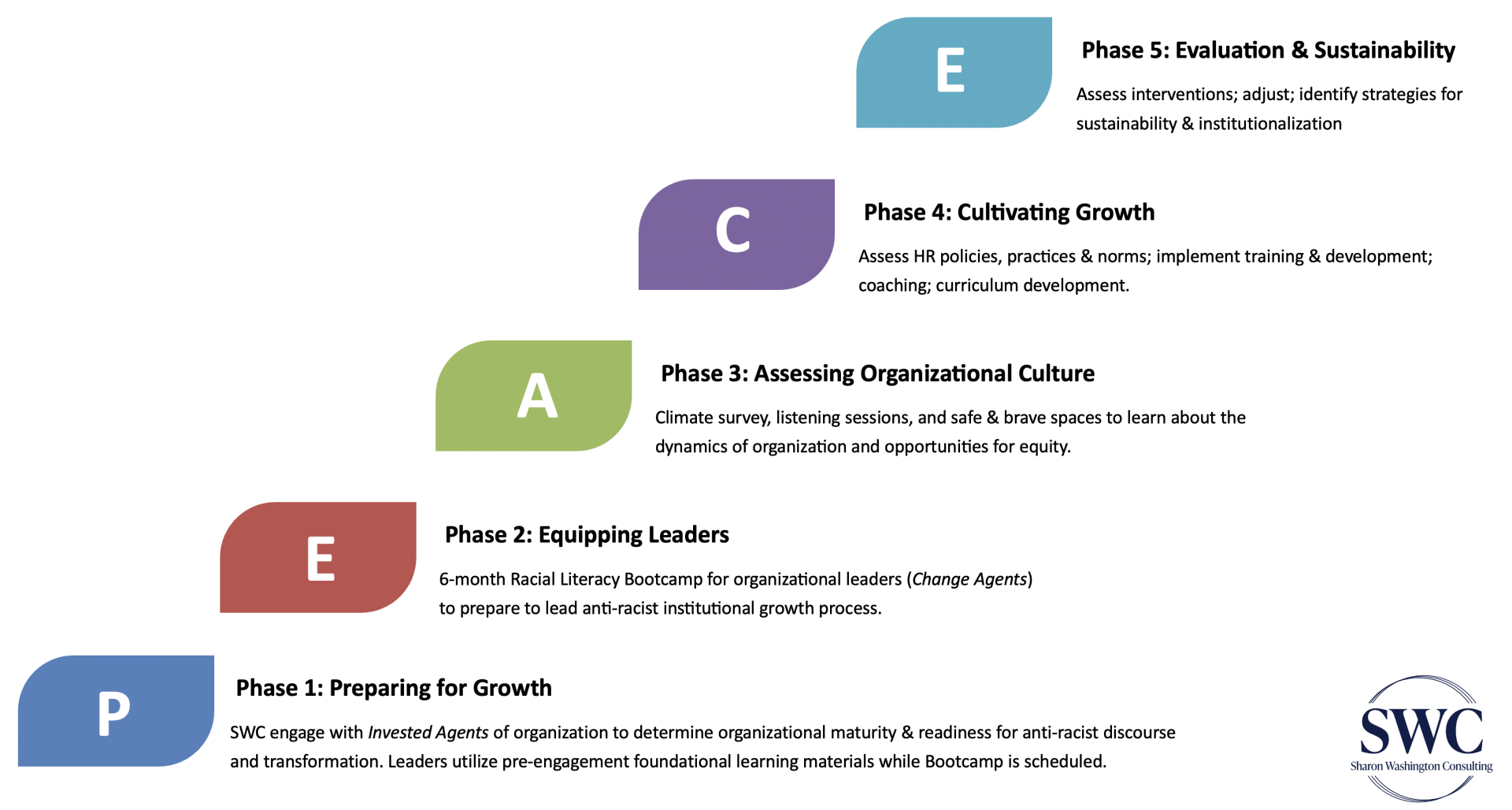 Not sure how ready your organization is for critical consciousness curriculum?
Use this
FREE Assessment

tool to identify next steps!
Calling ACTIVE DEI Leaders! | Ready for sustainable change? | Take impactful steps NOW!
Cohort Leadership Coaching

ENROLLING NOW!
Gather a cohort of organizational leaders who are ready to develop and integrate racial literacy and an equity vision.

Through a series of retreats, use of online course modules, and 1:1 coaching, create a cadre of leaders with skills, readiness, and strategy to implement meaningful institutional change.
Extraordinary Impact
Dr. Sharon GE Washington has 20 years of experience facilitating critical conversations on race, historical trauma and inequities, and their impact on marginalized communities, with 15 years centered on healthcare.

Having contributed to launching antiracist medical education at multiple institutions, Dr. Washington's confident, skillful, and fearless approach to integrating equity has led to meaningful and sustainable change.

Learn how Dr. Washington can support your DEI development, advance your organizational efforts, or thought partner on complex challenges!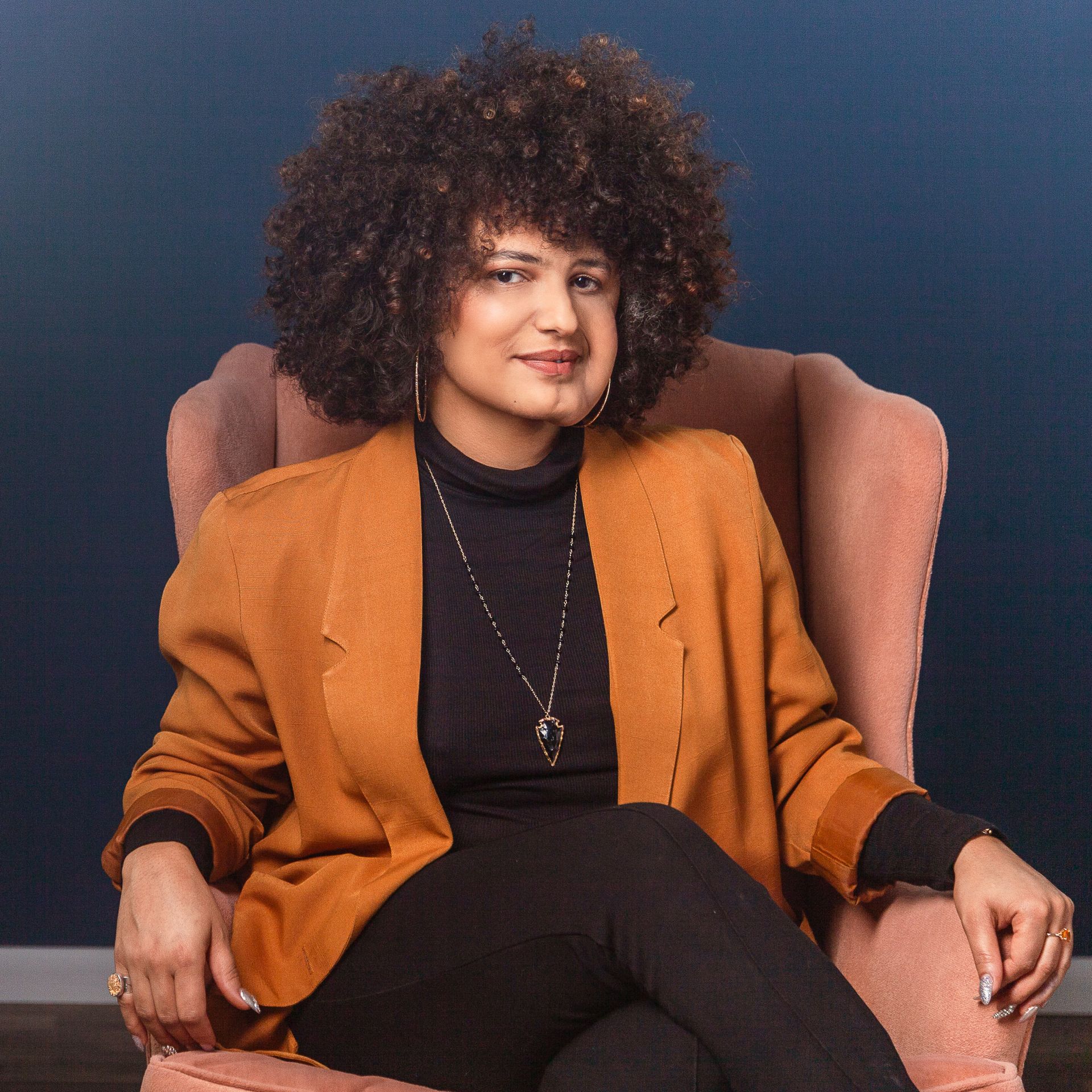 "Deconstructing racism and inequities in healthcare is an act of love and healing. Embodying equity in healthcare is a key to unlocking social equity and healing intergenerational trauma.
Just like healthcare, equity is hard and beautiful work!"
Sharon GE Washington, Ed.D., MPH
Principal Educator & Founder/CEO
Testimonials
See what our clients have to say!
"Her one-on-one and small group consultations have been so hopeful at moving us through some major roadblocks on this journey. Being able to bring hard issues to Dr. Washington and get her perspective has been so valuable."
"She pushes and at times it's been hard, but we all knew that going in and it's been totally worth it. It feels like we are able to engage around race, racism and oppression in a way that no longer paralyzes us. We have language, greater understanding and, I believe, greater commitment to anti-racism."
"The process of working with Dr. Washington has been very helpful to me personally, to the Core Faculty and to our residency as a whole. The racial literacy teachings have been so helpful for expanding understanding and increasing our comfort level with discussions of race and oppression."
"I had the pleasure of working with Dr. Washington over an 8 month span, and I must say that her work is truly exceptional. She assisted my team in deepening our understanding of the needs of our staff, faculty, learners, and beyond. Dr. Washington helped us increase our knowledge and skill sets as leaders, and assisted us in devising a dissemination plan to take out strategic plans for ideas on paper and turn them into equitable actions."
Jasmine, Departmental DEI Leader
"From the very first meeting, it was clear that Dr. Washington was not only highly knowledgeable in their field, but also deeply committed to understanding our organization's unique needs and goals. Her expertise and insights were invaluable, and they provided thoughtful, strategic recommendations that have already had a significant impact on our operations. But what truly sets her apart is her exceptional interpersonal skills. She is warm, empathetic, honest and genuinely invested in the success of their clients."
Jasmine, Departmental DEI Leader
"Her ability to build strong relationships and foster trust is truly remarkable, and it made working with her an absolute pleasure.
Overall, I cannot recommend Dr. Washington high enough. If you are looking for a consultant who is not only highly skilled and knowledgeable in the areas of diversity, inclusion and structural change, AND deeply committed to your success, Dr. Washington is the one for you."
Jasmine, Departmental DEI Leader
Guaranteed Security using one of the most advanced encrypted systems on the market.
The information in this page is being processed and encrypted securely using industry-leading encryption and fraud prevention tools.